NDPIA member Valerie Diane Valeriano, postdoc at the Laboratory for Molecular Infection Medicine Sweden (MIMS)/Department of Molecular Biology, Umeå University, participated in the EMBO Practical Course "Microbial Metagenomics: A 360° Approach" at the EMBL Advanced Training Centre, Heidelberg, Germany April 23, 2018 – May 1, 2018.
The intensive 8-day course included both wet lab and computer training and various research perspectives in approaching metagenomics in systems ranging from molecular medicine to ecological studies were combined.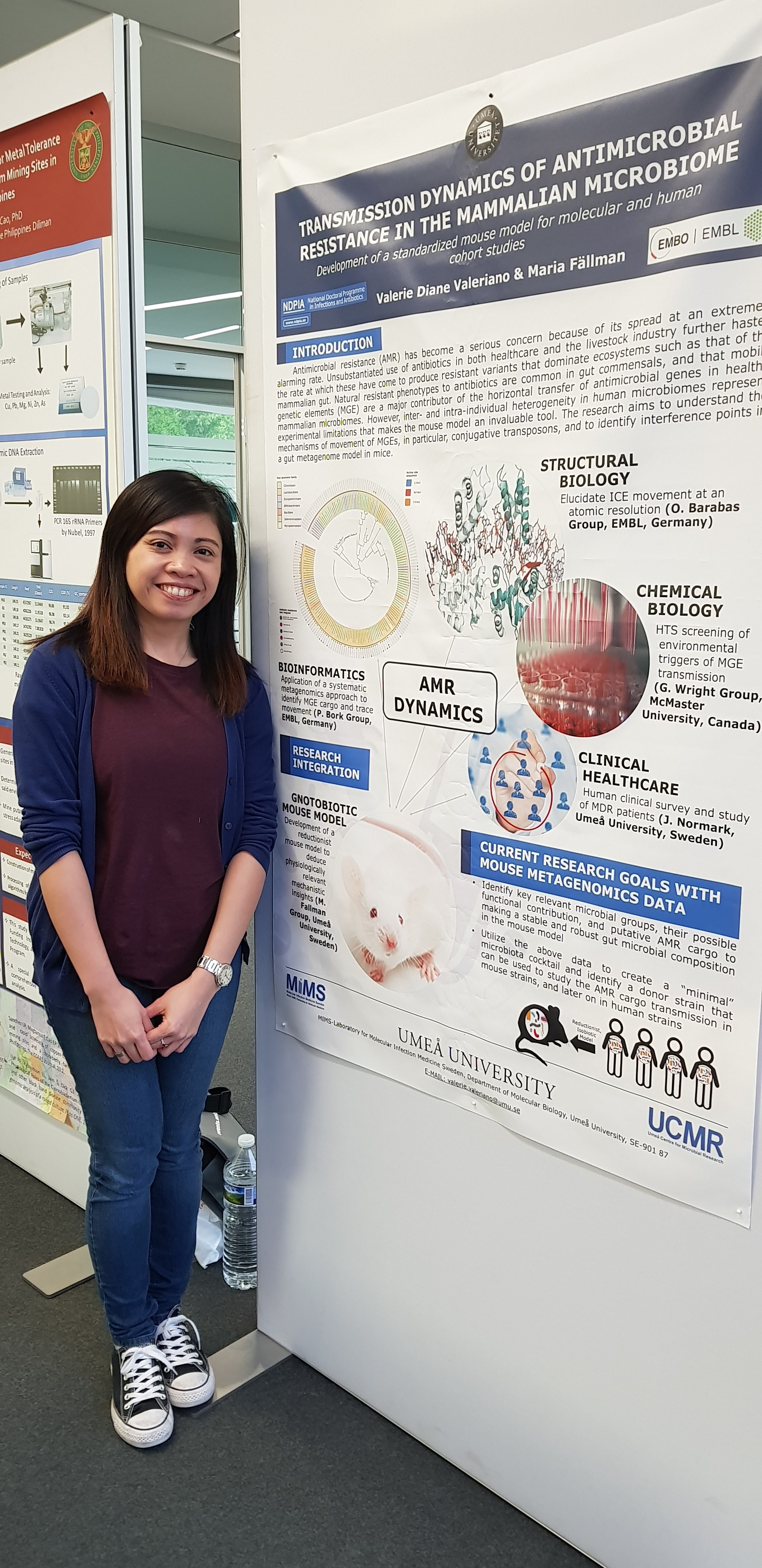 Valerie: "As a researcher involved in the study of antimicrobial gene transmission, the knowledge and awareness of this from a systemic point of view allows a multitude of avenues via which we can prevent the spread of dangerous multidrug resistant pathogens in the environment and also in a food, agricultural and medical context. I can really recommend this course to others as the invited speakers and facilitators came from various backgrounds, greatly widening the understanding and application of metagenomics approaches. Learning more about how to handle huge amounts of data and how to use currently available tools has a great potential to accelerate research objectives."
NDPIA provide co-funding for members to participating in EMBO/EMBL courses.
Link to additional information about this type of NDPIA co-funding.
With the aim to facilitate networking among NDPIA participants, a search field has been introduced at the "Extended participants list" page of www.ndpia.se and it is now possible to search among NDPIA members based on names and keywords. For this feature to become fully useful with respect to keywords, all current NDPIA members are encouraged to enter their own research related/interest specific key words via the "Edit profile" page at www.ndpia.se. New participants are to enter their keywords when they register to the programme.
NDPIA will together with the Swedish Society for Microbiology (SFM) organize a scientific meeting, the 4th NDPIA/SFM Day, 2 October 2018 with the aim to promote interdisciplinary scientific interactions. The programme features invited keynote speakers, short presentations selected from abstracts and a poster walk. The meeting will be held at Hjortviken Konferens outside Gothenburg. The meeting provides an opportunity to present and discuss research projects and to expand scientific networks. 14 short talks will be selected from submitted poster abstracts.
The NDPIA/SFM Day will be preceded by an NDPIA workshop on English writing/grant proposal writing 1 October. The intensive lecture workshop focuses on sentence level, paragraph level, and global level writing analysis and revision strategies. Participants will learn specific sets of analytical and revision skills that are transferable to both grant writing and article writing.
Workshop participants will be provided with a short notebook that includes a review of the main topics and techniques covered in the course. Many of the writing samples illustrate writing analysis techniques and revision strategies are from researchers based in Sweden. In addition, there is a plan to supplement the course with a series of on-line lessons for students who would like to review the topics introduced in the course.
Registration and abstract submission deadline – 25 June, 2018
Link to addition information and registration to activities 1-2 October 2018
Workshop and meeting participation including dinner and accommodation in shared double rooms 1 October is free of charge for NDPIA members who will participate in all activities 1-2 October and also submit an abstract and present a poster 2 October.