Welcome to NDPIA!
The National Doctoral Programme in Infection and Antibiotics (NDPIA) is a research school funded by The Swedish Research Council (VR) and is affiliated with MIMS (Laboratory for Molecular Infection Medicine Sweden, Umeå University) and the Swedish National Network for Infection Biology.
NDPIA has the goal to connect research environments studying infection biology and antibiotics throughout Sweden by offering courses & workshops, conferences, research stays in Sweden and abroad, and network meetings that promote scientific research and recruitment of young scientists.
NDPIA supports participation in these activities by co-funding of travel and accommodation costs. PhD students and postdoctoral fellows enrolled at a Swedish university/institute or with one of our international partners and studying infection biology and antibiotics are welcome to apply for membership here.
Recent news: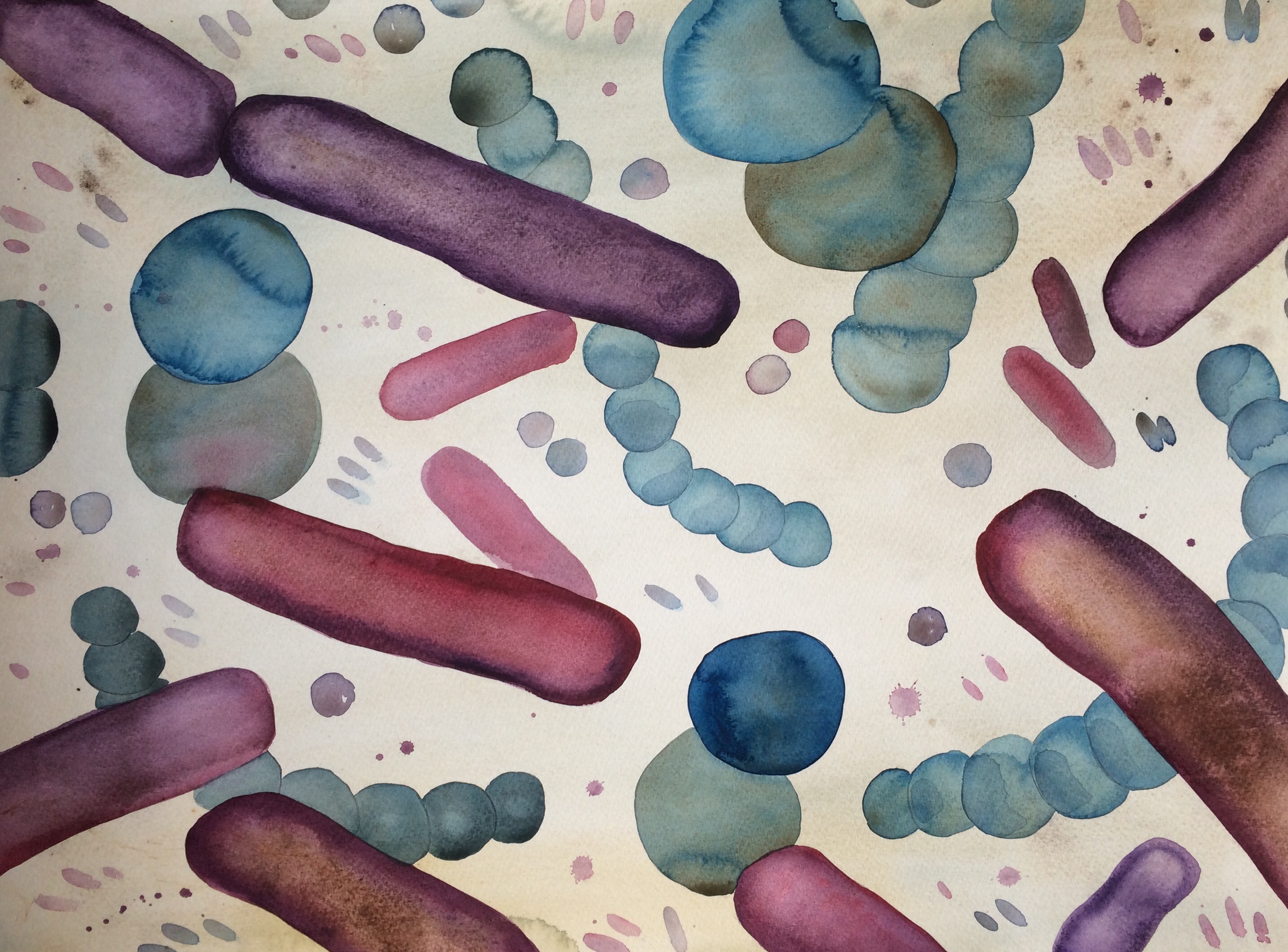 Artist: Ina Schuppe Koistinen, source: inasakvareller.se
When: November 30 – December 3, 2020
Registration deadline: November 6, 2020
Learn about the importance of the microbiota in human health and disease, interactions of the microbiota with the immune system, which methods are used to study microbiomes, and more in this course.
Renowned experts will give lectures on:
Tools used to study microbiota and data analysis
Microbiota associations with gut, genitourinary tract, mouth, and skin
Effects of diet and age on the microbiome
Microbiota interactions with drugs
Trends for modifying the microbiota
Microbiota in farm animals and plants
Get the chance to discuss your research with colleagues and build your national and international scientific network!

Molecular Infection Medicine Sweden (MIMS) is inviting NDPIA members to actively participate in the Nordic EMBL Partnership Conference.
If you have a broad interest in molecular medicine and would like to understand how your infection research fits into the bigger picture, this conference offers an opportunity to participate in four exciting scientific sessions covering big, cross-cutting themes of current research in the medical sciences.
The online conference will take place in the afternoons of 22-25 September 2020.
They are offering free registration to NDPIA members and have reserved a limited number of poster slots, which they expect participants to use to present their research to a broad international audience.
Registration is planned to remain open until September 10th unless they run out of capacity.
A research project – PERFECTION – investigating persistent bacterial infections has recently been established at Rigshospitalet (National Hospital) in Copenhagen and they are looking for five candidates to join the team!
Postdocs:
They are searching for four ambitious postdoctoral researchers with documented expertise within one or more of the following areas:
Cell biology
Molecular biology (genome editing)
Molecular microbiology (genetics, -omics, data analysis)
How to apply for the postdoc position →
Lab technician:
They also want a highly motivated laboratory technician with documented experience in the following areas:
Mammalian cell culturing and isolation, preferentially stem/primary cell cultures and preferably experience with organoids
Routine human cell laboratory practices and safety regulations (e.g., class 2 biosafety, etc.).
Lab organization (stocks, ordering, hygiene & security)
How to apply for the lab technician position →
---