The Nordic EMBL Partnership for Molecular Medicine is a joint venture between the European Molecular Biology Laboratory (EMBL) and the University of Helsinki, Finland, the University of Oslo, Norway, Århus University, Denmark and Umeå University, Sweden, with a national node in each of the four countries. The partnership between EMBL, the Institute for Molecular Medicine Finland (FIMM), the Centre for Molecular Medicine Norway (NCMM), the Danish Research Institute of Translational Neuroscience (DANDRITE) and Molecular Infection Medicine Sweden (MIMS) is dedicated to the growing field of life sciences that investigates the molecular basis of disease and explores molecularly and genetically based treatments. The EMBL-FIMM-NCMM-DANDRITE-MIMS partnership includes sharing of infrastructure and advanced training facilities.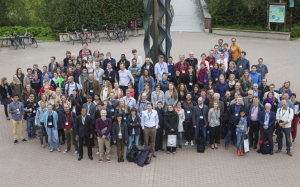 Picture from the 5th Meeting of the Nordic EMBL Partnership for Molecular Medicine 26-28 August, 2014. The meeting was hosted by MIMS and took place at Umeå University, Aula Nordica.
Click for a larger image.