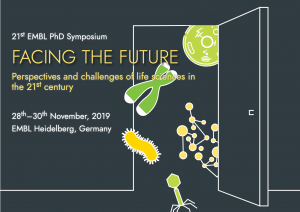 Join the 21st Anniversary of the annual EMBL PhD Symposium!
Since its conception in 1999, the EMBL PhD Symposium has evolved into a highly respected scientific meeting, connecting young researchers and high-profile scientists alike. This year the Symposium centers on the theme Facing the Future: Challenges and Perspectives of Life Sciences in the 21st century.
The conference will take place from 28th– 30th of November 2019 at EMBL in Heidelberg, Germany.
Find more information about the symposium, speakers and registration on the conference website:
http://phdsymposium.embl.org/symp2019/
Registration deadlines:
Abstract submission /EMBL Fellowship application:
5th of September
Short talk and Fellowship selection: 26th of September
Registration: 17th of October
NDPIA members can apply for support for travel/accomodation and registration fee.  Find more about this:
https://ndpia.se/co-funding-for-participating-in-embl-wellcome-courses/