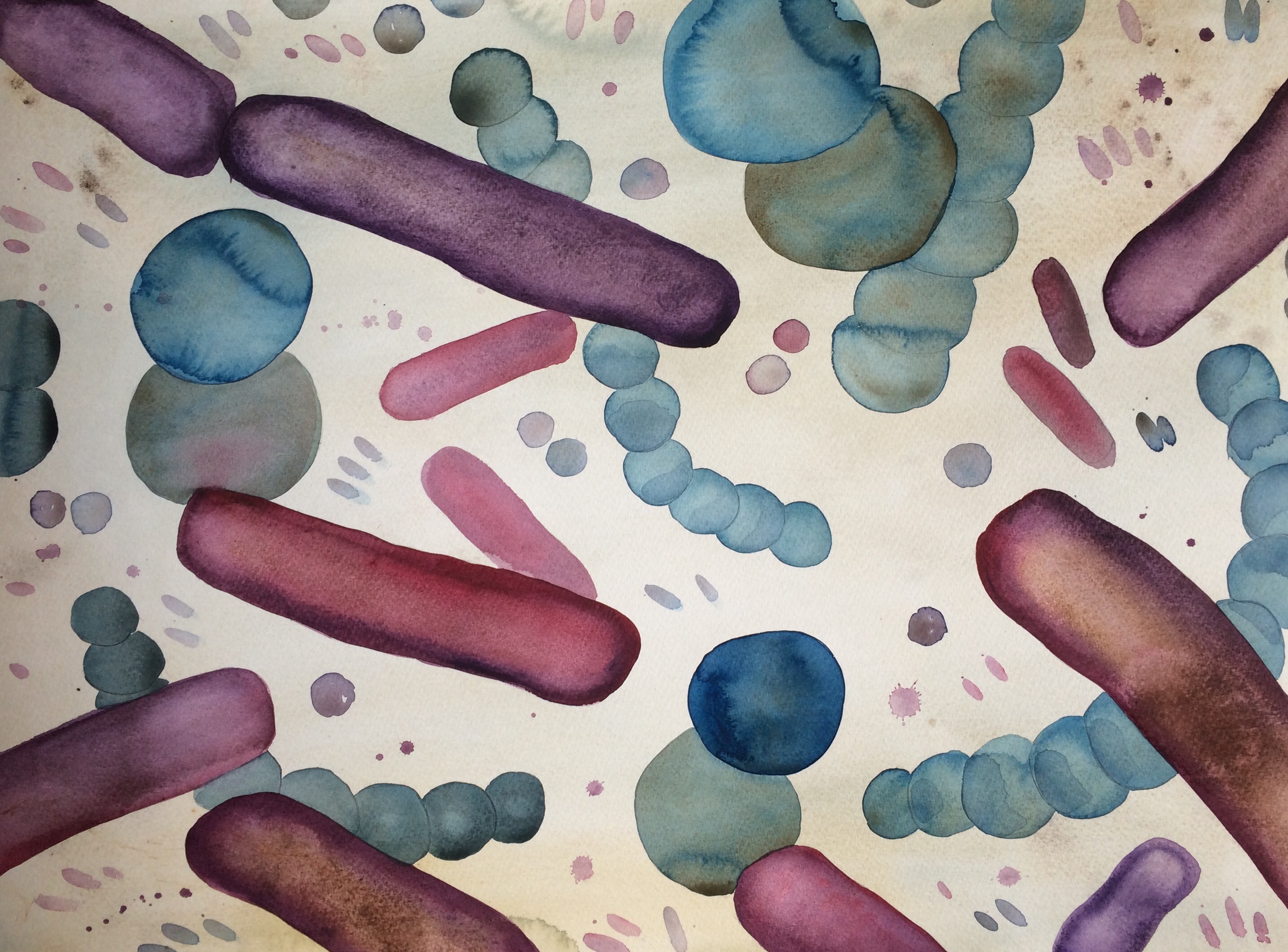 Artist: Ina Schuppe Koistinen, source: inasakvareller.se
Open for members and associate members. If you're not a member, register here.
A limited number of spots are available and full members will have priority over associate members.
When: November 30 – December 3, 2020
Registration deadline: November 10, 2020
Course instructor: National and International Renowned Scientists
Course schedule (opens in new tab)
Course summary
Suggested ECTS credit: 1.5 ECTS (this must be discussed with your home university)
Level: PhD-course or postdocs
Language: English
Microbiota are diverse microbial communities associated with multicellular organisms. Most of the course lectures focus on humans as the host. Two lectures are presented on microbiota associated with farmed animals and plants.
The associated microbial genes greatly outnumber those of the host organism. These communities of microbes and their genomes, the microbiome, affect physiological processes of the host. Understanding how the microbiota interact with the host is critical for understanding the host biology and host susceptibility to infectious and chronic diseases and responses to drugs. Alterations of the normal host microbiomes are associated with immune dysfunction and chronic diseases, such as gut inflammatory diseases, cancer, obesity, diabetes, and metabolic conditions linked to neurological, cardiovascular, and respiratory illnesses.
This course introduces the field of host microbiomes with a focus on health and discusses methods for microbiome studies and data analysis. The course gives an overview of microbiota associated with the human gut, genitourinary tract, mouth and skin as well as interactions with the immune system. The role of microbiome perturbations in host immune dysfunction and chronic diseases and possibilities for microbiome-based therapy are discussed.
On completion of the course, the student should learn:
which methods are used to study microbiomes and for data analysis
microbiota associated with the gut, genitourinary tract, mouth and skin
interactions of the microbiota with the immune system
effects of diet and age on the microbiota
importance of the microbiota in human health and disease
importance of the microbiota in farmed animals and plants
interactions of the microbiota with drugs
present day trends in modifying the microbiota
In addition to online lectures, participants will also have an opportunity to:
discuss their research with colleagues
build their national and international scientific network
discuss at the end of the lectures with experts working within microbiota research
Contact debra.l.milton@umu.se for questions.
(IBA members, please register via the IBA course page)
Bookings
Bookings are closed for this event.