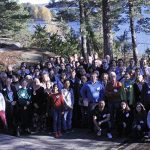 NIB 2019 will take place at Aronsborgs Konferenshotell between Stockholm and Uppsala. It will gather researchers from different areas of infection biology/infection medicine and microbiology.  The meeting is co-organised by the Swedish Society for Microbiology, The Laboratory for Molecular Infection Medicine Sweden (MIMS) and the NDPIA.
Confirmed invited speakers are:
Link to the conference website with more information about programme and registration
Registration deadline: 30 June 2019!