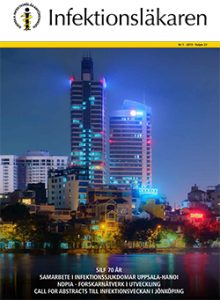 "NDPIA creates excellent opportunities for research of highest quality", the national journal for infection physicians in Sweden states in a quote from the article.
In its the first issue of 2019 the journal Infektionsläkaren published interviews with Fredrik Kahn, NDPIA Director of Studies at Lund University, Lisa Påhlmann, MIMS Clinical Research Fellow and Åke Forsberg, National coordinator for NDPIA .
Both Lisa and Fredrik are physicians working in the infection clinic but are also doing  research. Both have received support from MIMS as MIMS Clinical Research Fellows CRFs). Lisa is one of the two currently supported MIMS CRFs and Fredrik had support for 50 % research time as CRF 2013-2015.
The Article in Infektionsläkaren highlights the high quality of the courses/workshops and network meetings that are organized by National Doctoral Programme in Infections and Antibiotics (NDPIA) and that is open for all PhD students and postdocs in active in infection biology in Sweden. Especially, the course in November 2018 on "Antibiotics and Antibiotic Resistance" is mentioned where NDPIA presented a programme with world leading international scientists as lecturers. Many of the senior scientists attended the whole course and engaged in discusions with the course partcipants during the poster sessions and social activities.
The article also contains an interview with Helena Bergsten, NDPIA member and physician at the Hospital in Danderyd, who is a part-time PhD student at Karolinska institutet. Helena was one of the 40 PhD students and postdocs who attended the course in November.
Read the article in Infektionsläkaren (pdf-download)
More about the course Antibiotics and Antibiotic Resistance, 26-30 November 2018.